There is no such thing as a hail proof roof. The best we can ask for is one that is hail "resistant."  The American Society of Testing and Materials (ASTM) rate the official standard in hail-resistance.  The ratings range from class 1 (the worst) to class 4 (the best). Generally, clay tile and wood shake roofs are more likely to suffer damage from a hailstorm; whereas metal, concrete tile, and composite shingles will tolerate the storm better. The manufacturer of the roofing material can provide you a rating of your roofing product, assuming it has one. In certain occasions, roofing materials won't have a ASTM rating. In cases such as these, it's best to ask homeowners and/or roofing contractors about their experience and expertise regarding the product.
It is important to document damage after a hail storm. Sometimes the damage is only cosmetic or it doesn't show immediately. In the case that it is only cosmetic, the life and value of your roof will be retained. To determine if the damage calls for repair or total replacement, talk to your home insurance company. They will be able to tell you what qualifies your roof to be covered under their policy. Usually the insurance companies will base your roof's damage on the number of hail damage spots per roof square. One roof square equals 100 square feet of roof, or a 10' by 10' area. You can determine yourself if you qualify by counting the number of 'hits' in 1 roof square in at least 3 different locations, taking the average, and then comparing your results with the minimum requirements of your policy. Hopefully if damage is visible, you will be able to qualify for full coverage!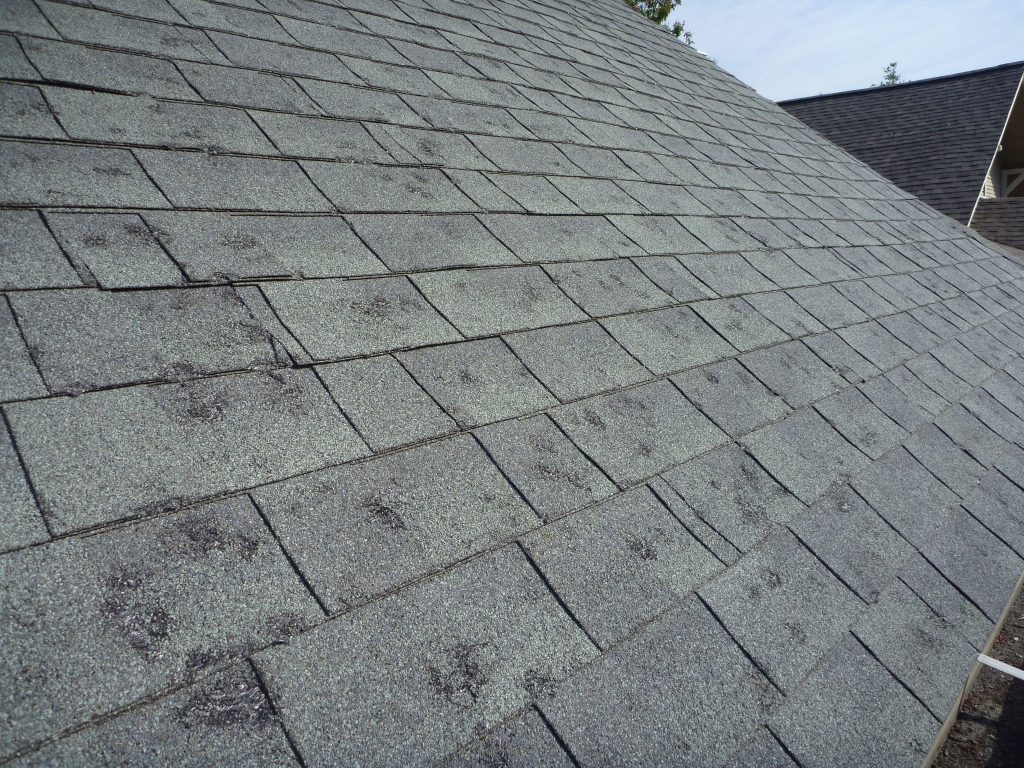 Hail damage to your roof won't always be instantly apparent. If you have composite shingles, hail can dislodge the granules on the surface of the shingles. These missing granules may not be noticeable at first, but future damage can result. Take note of excess granules falling into the gutters and under eaves for months following the hail storm.  To make an effective case for your roof, document the changes to your roof after each storm. If you see a considerable amount of granules in the gutter, take a picture and write notes.
Luckily, damage from lighter hailstorms is mainly cosmetic. However, moderate to severe hail damage can strip shingles of their mineral coatings and shorten the life of your roof. In cases such as those, insurance will usually cover the repair of the superficial damage. If hail has caused your roof to leak, have holes, or cause shingles to crack, it is necessary to cover the damaged area until the area can be repaired or replaced.
Citation: "Hail Damage to Roofs and Roofing Materials – Roof Helper." Home Improvement Resource Sites – Home Improvement Helper 2011. Roof Helper, 2011. Web. 31 May 2011. www.homeimprovementhelper.com.

Contact Lone-Star Roof Systems, LP. or visit our office today!
LoneStarRoofSystemsLLC.com
1-800-317-1939
Mailing Address
1511 South Texas Avenue, #172
College Station, TX 77840
College Station Office
18476 State Highway 6 S.
College Station, TX 77845